Instant Face Lift Cream copies the results of a surgical facelift, without the pain and expense.
This Instant-Facelift cream will smooth facial lines and wrinkles. It is a unique wrinkle removing cream that provides an instant, visible tightening effect. It lifts the skin, smoothing wrinkles from your face and neck.
Erase Non-Surgical"Instant Face-Lift Cream" provides dramatic results. It lifts, smooths wrinkles and firms skin, to provide a more youthful appearance to Erase at least 10 years off your appearance in just 3 minutes.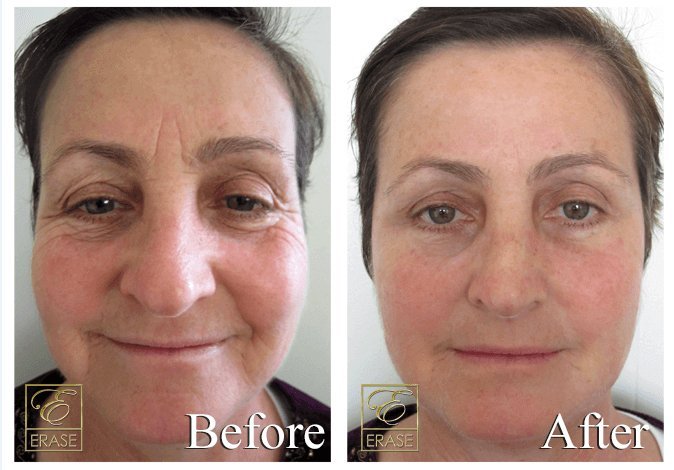 The last pics were genuine Erase Cosmetics Customers who submitted their photos to show us the results!
Erase Cosmetics Non-Surgical Instant Facelift cream will firm sagging skin on the face and neck.
Immediately reduce deep lines and facial wrinkles.
Smooth out forehead wrinkles and crow's feet.
Lift eyebrows.
Smooth out nasal-labial folds.
Shrink pores.
Why Erase Instant Facelift Anti-Aging Cream works.
Firstly, let's understand the anatomy of skin aging. As you age, the production of collagen and elastin (the proteins responsible for skin hydration and elasticity) declines. This results in decreased skin elasticity. As the skin cells move further apart, causing the visible signs of aging such as sagging and wrinkling of the skin.
Over time, repeated facial movements such as smiling, frowning, furrowing your brow or merely talking, take their toll. With the skin's decreased elasticity, it is unable to snap back the way it used to when you were much younger.
Environmental pressures also have aging effects on our largest organ. Excess sun, wind and everyday irritants such as smoking, chemical pollutants, and excess alcohol consumption don't do us any favors either! By infusing Collagen in our formulation of natural ingredients, Erase Instant Facelift Anti-Aging Cream provides your skin what it direly needs, a very effective skin tightening cream. When Erase Instant Facelift anti-aging cream is applied to the face and neck or indeed wherever wrinkles occur, it is absorbed into the upper layer of the skin.
It takes just 90 seconds to begin seeing the results and the maximum
effect is reached in around 3 minutes.