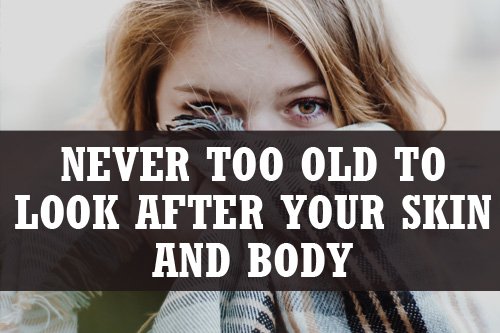 Contrary to what most beauty products claim, women, particularly those over 60, are more concerned with the signs of aging and striving to achieve young-looking skin. In fact, facial skin-care products have grown into a $20 billion industry worldwide selling products lines with moisturizers, skin plumping, sun protection, and more – all created to prevent or reduce the signs of aging.
Some women swear by jojoba oil, while others praise lavender oil, and the rest just rely on a simple soap and base moisturizer. What you use on your skin will play a vital role in how well you care for your "aging" appearance. While one of the main tips is to exfoliate, it's only one of many skin care rules that older women are told to follow.
Focus on Healthy Skin, Not Younger Skin
Our skin has unique nutritional needs that vary by age. While there is the usual advice of eating a healthy, balanced diet of fruits and vegetables, there are specific food items that will help you achieve natural glowing skin for years to come. Take vitamin D for example. Your skins natural ability to produce this nutrient will decrease with age. That is why is it essential to eat super foods that will help seniors consume the daily recommended amount of vitamins and nutrients they need per day.
Prepare Skin Care Regime Based on Your Needs
If you haven't already, now's the time to start a quality skin care routine. You can visit a dermatologist to discuss your skin care goals and determine the ideal plan. If you have skin tag you want removed, affordable private skin tag removal is available through Summerfield healthcare. For an added skin care boost, seniors can take advantage of today's quality skin care products and give your skin an instant lift before you feel the need for botox and plastic surgery.
Take Supplements for Healthy Skin
While it is essential to use the same skin care brand to gain the best results, that is only one area in caring for your skin properly. You will also need to look after your skin's inner condition with supplements. Supplements help you consume nutrients that you might be deficient in, which is common for older people.
Furthermore, it is never too late to start taking care of your skin. With proper nutrition, sleep habits, stress management, and quality skin care products, you will have the best chances to sustain healthy skin. Even if you haven't taken care of your body and skin in the past, now's the time to start a new routine today.