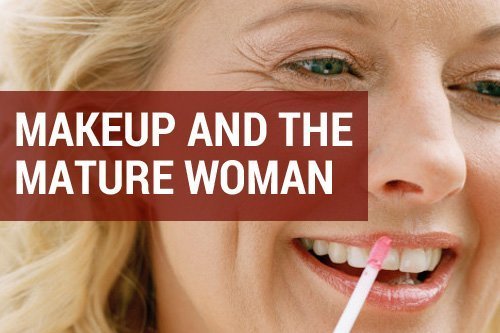 Lipstick:
Why am I beginning with the last to be applied element in the makeup routine?
I believe lipstick may be the fastest and most effective instant facelift for any woman's face. Within moments the simple application of lip color can have myriad positive physical and psychological effects, from eliciting a happy and approving smile at our own reflection to the boost to our ego and self-confidence when we attract admiring glances and comments from others.
Whatever the occasion and whoever the woman, lipstick goes with it all.
Lipstick for a woman is a rite of passage:
Our first experiences with lipstick are tinged with excitement and daring. Whether secretly experimenting with our mum's or older sisters makeup or finally being old enough to wear our own lipstick out of the house we probably all remember how grownup and feminine we felt.
As mature women we may not need to be reminded how grown up we are but the instant flash of delight at feeling feminine and being admired from the simple application of lipstick remains.
As we mature our skin experiences subtle changes in tone and elasticity. Although facial lines and wrinkles are more or less to be expected given lifestyle, genetics and the aging process, we thankfully have at our disposal several solutions for the problems we encounter to effectively and confidently apply makeup for the changing canvas, in this instant.
Some but not all of us will have lines/wrinkles leading away from our outer lip lines resulting in pesky and unsightly 'bleeding' or 'feathering' of lip color.
Sagging also affects the shape of our lips resulting in the corners of our mouth tilting downward producing a dissatisfied facial expression.
These are two quick effective non-invasive solutions for bleeding/feathering lip color and a sagging lip line.
First, the use of a skin tightening cream will smooth the lines/wrinkles around the lip line, for up to 6-8 hours.
This provides a smoother surface around the lip and mouth area and reduces the nasal labial folds reducing sagging of the outer lip corners.
Next, apply a soft nibbed lip pencil to outline the lips. I recommend a soft nib to lessen 'dragging' of the skin in this area and reduces the risk of adding to the lines/wrinkles..
Some lip pencils last longer than others and to be confident of no lip bleeding the longer lasting the better.
"M.A.C. sells an easy glide lip pencil in their "pro-long wear range' which I like and find lasts all day, even after eating and drinking."
"UNRBAN DECAY also sells a lip pencil called OZONE that has a dual purpose of liner and filler. The pencil when applied is clear and sets the area of the lip line providing a smooth barrier past which lip color cannot 'bleed'.
Now, we have prepared the canvas we can plumb our inner artist and apply inspired luscious color.
The first of a series of articles by Luci Stansfield
– mother and grandmother