Is a Konjac Sponge the Ultimate Beauty Sponge?
Why a beauty sponge?
Konjac sponges are from the dried and ground root of the konjac, or elephant yam, that's native to Asia.
Now popular in the west, the konjac sponge will cleanse, exfoliate, and nourish skin. Here's why it has enjoyed its recent rise in popularity.
You have will have seen konjac sponges in a variety of stores, but were not quite sure what they are or what to do with them.
Asian cultures have used konjac root for over 2,000 years and as a sponge has been a popular item for around 100 years.
The process is simple enough. Mix konjac powder with calcium hydroxide, heat, freeze and then dry. The calcium yields an alkaline end product that helps to balance an acidic skin pH. Powdered charcoal, green or red clay is also mixed with the konjac.
Why a Konjac Sponge Works
A konjac sponge is like a brush for your face to exfoliate and cleanse pores. Being a mild and gentle abrasive it is also great for dry patches, acne, blackheads, and eczema.
Natural Konjac sponge use can nourish the skin. It contains vitamins A, B, C, D and E, proteins, lipids, fatty acids, copper, zinc, iron, and magnesium. Konjac even has antioxidants. Unlike other exfoliators, konjac is completely natural, non-toxic, and biodegradable.
Using it with only water will cleanse the skin. Research has shown that konjac may inhibit bacteria that produce acne. A Konjac is possibly the most versatile beauty sponge in the market.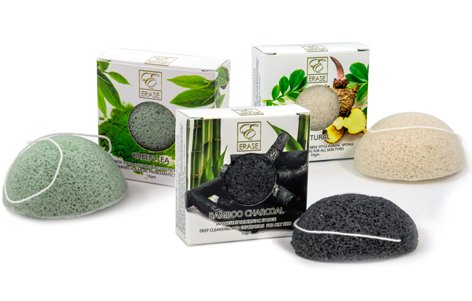 Which Color to Choose
There are different colored sponges, each has its purpose.
Dark grey konjac sponges – infused with charcoal for acne-prone skin.
Red or pink konjac sponges – contain French clay, for sensitive, mature, or drier skin.
Green sponges – contain green clay or tea to detoxify and absorb oil.
White sponges – natural but work well to improve skin health
How Does a Konjac Sponge Feel
A Konjac sponge feels finer than a washcloth. It is softer than a loofah and many other face exfoliators. The texture is a little like the typical white makeup sponges.

How to Use a Konjac Sponge
The konjac sponge when you first open the packet is small and quite hard. To soften your konjac soak it in warm water for up to 15 minutes before the first use. Later uses will only need a minute or two to soften and expand.
Remove the excess water by squeezing. Don't be rough. You may apply a little cleanser or use the sponge as is.
Using upward and circular motions rub the konjac sponge on the face. Focus on dry or problem areas. The konjac is a mild exfoliator, so resist the temptation to rub hard to get a result, but there is no need to do that. The konjac sponge works well to remove dirt, sunscreen, and makeup. It also exfoliates your skin.
When you have finished, rinse the konjac sponge in cool water. Then squeeze out the excess water by pressing the sponge between your palms. There is no need to squeeze it or wring it dry.
Hang it to dry, somewhere where there is good airflow, or keep your sponge in a sealed bag or container in the fridge. Do not store it in direct sunlight or high humidity.
Other Uses for your Konjac Sponge
The konjac Sponge can also double to apply foundation, BB cream or sunscreen. Clean your sponge for further use.
Taking Care of a Konjac Sponge
Disinfect your sponge in boiling water every couple of weeks. Replace it when it loses its expansion properties or starts to break down.