The Do's and Dont's of Applying Eye Cream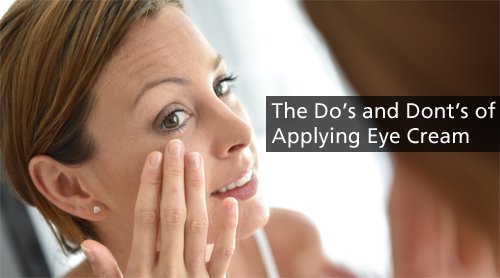 Eye creams  keep the skin around the eyes moisturised and tight. It is an important aspect in any skincare routine and should be applied at the right time with the right techniques. Many beauty experts have shared top tips on the right way to apply eye creams so we can benefit from it fully.
See also: Visage Lovely Eyes – Tripple Action Eye Serum
Wash your face before application.
Before applying your eye cream, it is important that you wash your face till it is free from any dirt and build up.  This keeps your pores open and allows penetration of the cream.
Apply on damp skin
Any kind of cream works well when applied on damp skin. Moisture is locked into the skin cells when the cream is applied on damp skin.
Visage Lovely Eyes – Tripple Action Eye Serum
Apply in small quantities
Applying eye creams in small quantities  allow easier absorption. Thick layers of cream only sits on the skin and shows no visible progress even after prolonged use.
Apply with the right finger
Always use the ring finger when applying your eye cream because it has the lightest touch and woiuldn't move the skin around. If you are moving the skin around your eyes in a circular motion when applying your eye cream, then you are doing it wrong.
Apply in the right places
Eye creams should not be applied only where there are dark circles. Ensure to also apply the cream above the eye area as it also needs moisturising. You should however be careful when applying eyecreams at night. You do not want to wake with puffiness round the eye as a result of product getting into the eye and irritating it while you sleep.
Pat into the skin
Patting your cream into the skin prevents unnecessary skin pulling and ensures even distribution and full penetration.  Try to pat in your cream from the inner to the outer corner of the eye.
Give it time to penetrate
Some times, we may be in a hurry and layer products without waiting for it to penetrate. This is not a smart move. We should wait a few minutes after applying any eye cream or facial cream before putting on makeup.