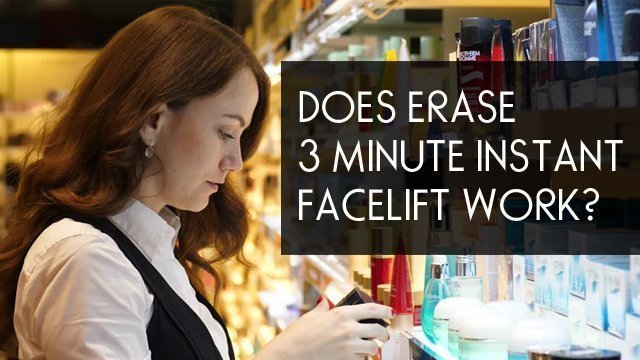 Does Erase 3 Minute Facelift Serum work?
We are often asked the question. The answer is yes. 
By far the majority of comments we receive about our 3 Minute Instant Facelift are positive, but not all.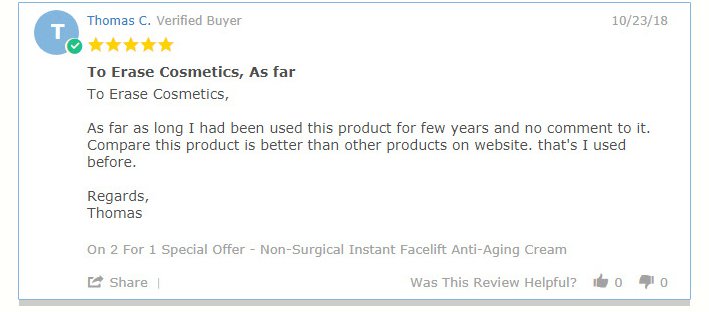 So why do the vast majority of our customers claim it is the best and a few say it doesn't work?
How can I best answer it?
The other day I had a customer call me to order more bottles of the facelift. This lady lives at Central Park in New York and often travels to the UK and beyond. A friend of hers in London who is a top cosmetics surgeon recommended 
3 Minute Instant Facelift.
Our customer tried it and loves our product.
I have many customers who use our products daily and who call to order more.
They comprise 77.2% of our customers and others
 repeat order but only once or twice a year.
There are those who say it doesn't work, but one thing I have noticed is the people who say it doesn't work usually do so within a few hours of receiving their order.
The first time you tried makeup did it work out or did you have to experiment a little to get the effect you wanted?
I suspect you may have had to learn to apply it.
The most common comments I have had from our long term users is that they discovered tricks on how best to apply it.
Some use supermarket moisturisers as a base, or just apply it to moist skin.
Another common method is to apply the facelift with a brush, rubbing in an upwards motion to obtain an even spread.
Many, like Muriel, apply
3 Minute Facelift and
only use lipstick and a bit of eye shadow as their makeup routine.
Moist skin prevents residue, but again it is a matter of practice makes perfect. Residue does not seem to be a problem for our regulars, they have learned how to minimise it.
We know you may not like the product the first time you try but the results may surprise you if you persevere a little.
Try our Erase 3 Minute Instant Facelift Cream – click here – As we say: "All you have to lose is years from your Face!"