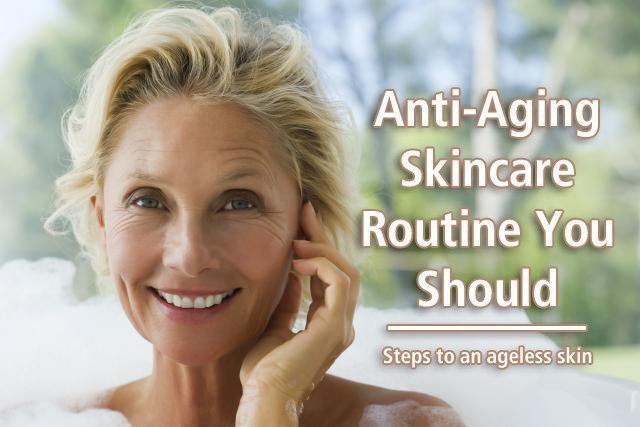 An Anti-Aging Skin Care Routine to maintain a young glowing and supple skin? What products do you use and how do you use them? Is your anti-aging skincare routine tailored to slow down the visible signs of aging? If your priority is to have a firm and ageless skin, then this is the anti-aging skincare routine to follow.
What You Will Need
Cleansers
Moisturizers
Exfoliates
Eye Cream
Sunscreen
Night Peptide Cream
Morning Routine
Use a good cleanser and water to get rid of the accumulated dirt on your face. Before you begin washing your face, it is important you wash your hands first to prevent the spread of germs from your hands to your face.
Fine lines, wrinkles and dark under-eye circles are signs of aging. The skin around your eyes is thinner and more sensitive than any other part of your body. Apply good eye cream in the right way around the areas of your eye.
If you have got puffy eyes, dark circles, wrinkles, crow's feet, and fine lines, the Visage Lovely Eyes-Triple Action Eye serum is the right eye cream to use.
Washing the face strips it of its natural moisture. Restore the lost moisture by using a rich moisturizing lotion. Apply a sufficient amount and pat it into the skin. If you use a face serum, make sure to apply it first before the moisturizer. The 3 Minutes Instant Facelift Serum is a lightweight formula that will tighten up loose skin giving an instant result.
Before leaving the house, apply a generous amount of sunscreen all over your body to prevent sun damage.
Night Time Routine – an essential part of your Anti-Aging Skin Care RoutineExfoliate
Exfoliate at night to remove dead skin cells and restore a youthful glow. Since the face is delicate, use a mild exfoliating sponge, like the Bamboo Charcoal Erase Konjac Sponge to wash at night.
Apply the eye cream which you used during the day again at night using soft patting motions.
Apply a peptide night cream like the Regenerate Multi-Peptide Rejuvenation Cream that will deeply moisturize and rehydrate your skin while you sleep. A well-moisturized skin will look ageless.