An Irish proverb says:
"Do not regret growing older. It is a privilege denied to many."
People sometimes feel guilty about this as they know of people who are not well or have died at their age.
It makes worrying about wrinkles seem trivial.
We all get older. there is nothing we can do about it. But ageing is not something to cause us to lose interest in ourselves or our appearance.
Looking good equals feeling good about your self. This, in turn, makes you project your attitude to others and a positive attitude has many beneficial side effects.
At Erase Cosmetics we have regular customers who are an inspiration to me.
One lady, in particular, is in her 90's, has had a hip replacement but still plays golf twice a week. Another has had both knees replaced. What impresses me greatly is the fact that these two ladies still take care of themselves. it is not about impressing others, but rather to make themselves feel good.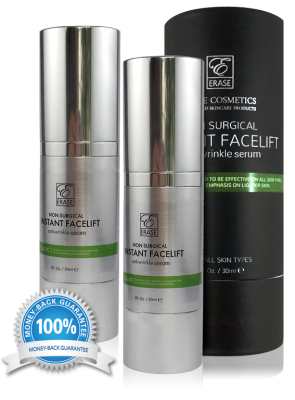 Our dear Muriel (the lady in the video) is another favourite. Her self confidence is a joy to behold since she started using our instant facelift almost 10 years ago and continues to do so daily.
I am approaching my mid 70's and my enjoyment of life seems to prevent any thought of ageing I have.
So let's think about ageing and wrinkles:
1. "Am I concerned about my wrinkles?
It is a natural thought to wish we looked young. But the truth is that unless we are genetically blessed we will get wrinkles, eye bags, frown lines or worse.
Some resort to cosmetic surgery to try to regain a youthful appearance. Often the results can make us look more like a "deer in headlights" than a person comfortable in the way they look.
2. "Feel alive!"
Don't let age stop you. Ageing is a privilege. Don't think of it as a handicap.
Do things that make you feel energised and happy to be alive. Feeling great helps with health and stress. Less stress means fewer wrinkles.
3. "What would feel good right now?"
A hug, a walk in the fresh air, a good carefree chat with a friend are all things that make you feel great.
Do not allow yourself to be burdened with "opr", other peoples rubbish. Keep negative people or things as far away as possible.
4. "Are thoughts repeatedly in my head? If they are, are they positive or negative?"
If you constantly criticise yourself with thought such as, " My wrinkles look horrible", these thoughts are not of benefit to you or anyone else.
We all have the ability to change the way we think and to take action to fix our concerns, be it wrinkles or any other part of our life. Think positive.
Remember:
"Do not regret growing older. It is a privilege denied to many."